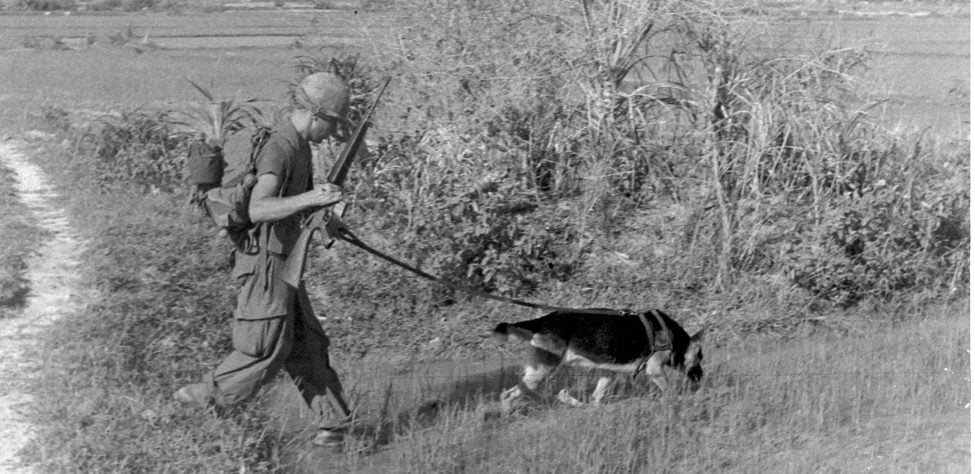 Dogs have been man's partners in war for a long time — at least as far back as 4000 BC. Their keen senses, learning ability, physical endurance, and devotion to man have made them invaluable companions on battlefields both past and present. In the jungles of Vietnam, nearly 4,000 specially trained dogs served in a variety of combat roles, reportedly saving tens of thousands of U.S. troops from injury and death.
Overview
The Vietnam War introduced American troops to a new kind of warfare. Patrolling thick, triple-canopy jungles was dangerous by day, and even more perilous by night. Enemy fighters used the jungle to their advantage, employing guerilla tactics (such as ambushes, mines, tunnels, and traps) in ways that U.S. troops hadn't encountered before. A well-trained dog became an extension of his handler's senses — seeing, hearing, and smelling danger that was otherwise undetectable.
The German Shepherd Dog (GSD, also known as Alsatian) was the most common service dog in the Vietnam War, used for scouting, sentry duty, mine/tunnel detection, and water patrols. Labrador retrievers were also widely used, primarily as trackers. Dogs were trained to alert their handlers to all kinds of hidden dangers, from snipers to trip wires and weapons caches. Dogs could even detect enemy fighters submerged in rivers, breathing through hollow reeds and waiting to attack American watercraft.
These dogs and their handlers are credited with saving more than 10,000 U.S. lives (imagine The Wall with 10,000 more names inscribed on it) and preventing certain injury for countless more. They were so effective that they became special targets for the enemy, who began attacking kennels and offering bounties for the shoulder patch of a dog handler or the tattooed ear of a service dog.
When the war ended, many handlers wanted to bring their dogs home to America. In a decision that remains controversial to this day, the Department of Defense classified the dogs as equipment, and most were left behind — transferred to the army of South Vietnam, systematically euthanized, or simply abandoned. Only around 200 made it home to "retire" in peacetime.
This unfitting end motivated Vietnam dog handlers to act. Due in large part to their collective efforts, "Robby's Law" was passed by the U.S. Congress in 2000. Since then, no adoptable dogs are euthanized at the end of their military service. Instead, they are offered first to former military dog handlers, then to law enforcement, and finally to qualified families, who undergo a rigorous screening process.
Approximately 4,000 dogs served in the Vietnam War leading patrols with their handlers. These dogs are credited with saving more than 10,000 lives. U.S. Air Force A2C George M Bevich Jr. and his dog, Rex, were killed defending their base on December 4, 1966. This remembrance was left on his Wall of Faces by a comrade, Fred Cobb.
George, I remember you today as well as I did when I met you at Lackland AFB, Tx when we were on our way to Viet Nam. I remember how we all got off the plane in Hawaii with our dogs and took them out on the ramp eventhough the government told us they had to remain on the plane. Everything for our dogs. All of us talked about dying in Viet Nam but I don't think any of us thought one of us would. We knew that, unlike other soldiers, we at least had our dog with us so we would never be alone. I was shocked when I heard that you had been killed during the attack on your base in Siagon. I belong to an organization today that honors the Viet Nam dog handlers. You are a member of that organization and your name is on our honor roll. We talk about you all the time. I laugh at some of the things we all did. We were all so young. I know you have a son and I know that he had to be very proud of you. I know all your dog handler friends are. You will never be forgotten. Some day, I'll be in heaven with you and we can once again walk our dogs.
This photo of Bevich and Rex is part of The Wall That Heals mobile exhibit. Bevich is remembered on Panel 13E, Line 9 of The Wall.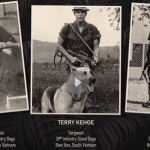 Dogs have been man's partners in war for a long time. Their keen senses, learning ability, endurance & devotion have made them invaluable companions. Learn more about these four-legged warriors and their two-legged warriors by hearing  from Terry Kehoe, Mark Smoot, and Bob Dunn.
Watch this tribute to dogs of the Vietnam War.
Mark Smoot served in the U.S. Air Force as an Airman 1st Class with the 56th Security Police Squadron in Thailand from 1971-1972. He talks about serving with his K-9, Jake, and the roles of military working dogs in-country.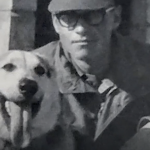 Bob Dunn handled military working dogs in the U.S. Army and served with the 212th Military Police Company (Sentry Dog). Hear him talk about the training and duties of sentry dogs, and about working with Duke to secure one of the largest ammunition dumps in the world at Long Binh.
Navy SEAL Master Chief Bill Bruhmuller served with BUD/S Class 13, UDT 21, UDT 22, SEAL Team Two with three tours in Vietnam. Bill was the first SEAL to handle Dogs in SEAL Team. Hear him talk about his service, from parachuting with "Prince," to lying on ambush in Vietnam with Prince.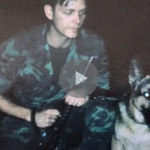 Dog Handler Bob Curnick was a dog handler who served in the Air Force from 1972-1976. While serving as a dog handler and sentry in Montana, Bob was called to protect one of the last American bases in Southeast Asia after the withdrawal of American troops from Vietnam in 1973, known as Nakhon Phanom Royal Thai Air Force Base. While stationed in Thailand with the 56th Security Police Squadron Bob formed a steadfast relationship with his military working dog Rex.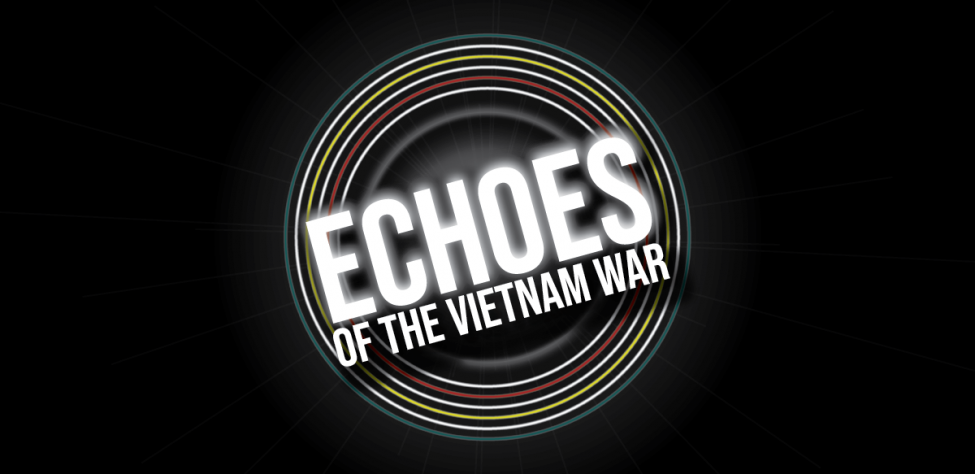 EP11 – Canines in Combat
August is National Dog Month in the United States, so in this episode we salute the four-legged warriors who helped us fight the war in Vietnam, saving an estimated 10,000 American lives.
EPISODE SHOW NOTES