On August 10, 2023 – Agent Orange Awareness Day – we will bring light to the continuing dark toll of the war. The Vietnam War may be over, but the battle continues for many Vietnam veterans. Nearly 3 million service members served in Vietnam and most returned home. But since then, thousands of Vietnam veterans have fought illnesses related to Agent Orange exposure. This deadly toxin has impacted the lives of thousands of veterans and their families but is largely unknown to most Americans.
To learn more, visit our topics page about Agent Orange. If someone you know has lost their battle to Agent Orange learn how to honor them in our In Memory Program.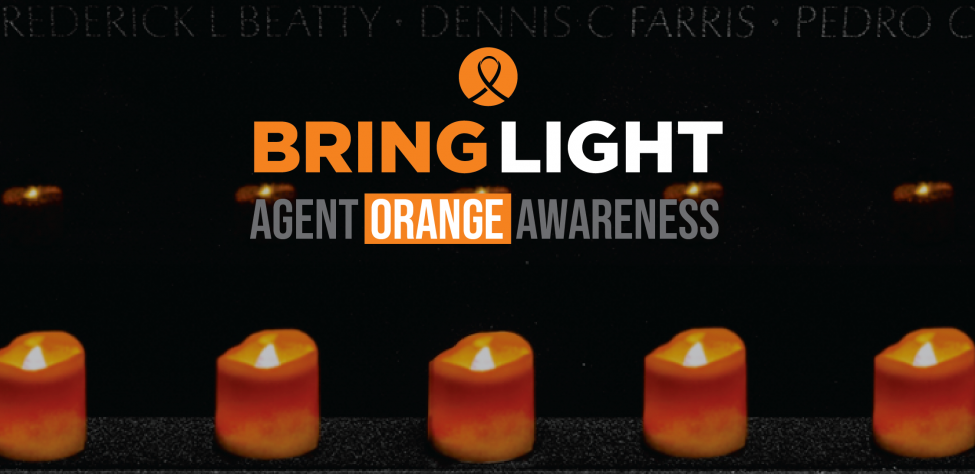 U.S. troops have fought in jungles since the Spanish-American War. Vietnam, however, presented new challenges, as enemy forces used the thick, triple-canopy jungle as a tactical advantage in guerilla warfare. To counter this advantage, the Americans launched Operation Ranch Hand in 1962, employing chemical herbicides and defoliants in enormous quantities to deprive the enemy of places to hide. Agent Orange is the most infamous of these "rainbow herbicides," and its lingering toxicity continues to affect those exposed on either side of the conflict.
Our order window is closed.  Thank you for your support!  
Here is how it works:
Place your shirt order (online only) through our vendor Custom Ink between now and when the sale ends on 07/24/2023.  Unfortunately we are unable to combine different shirt designs into the same order.  Each shirt design requires its own order.
Shirts are produced and shipped after the order window ends on 07/24/2023.
Watch your email for a shipping notice/tracking link that will come from Custom Ink after the order closes.
The estimated delivery window for the shirts will be around early-mid August 2023.
Echoes of the Vietnam War Podcast
Agent Orange Episodes
EPISODE 10: Agent Orange
The Vietnam war ended nearly 50 years ago, but thousands of Vietnam veterans and their families are still fighting illnesses related to Agent Orange exposure. On the 60th anniversary of the first use of Agent Orange in Vietnam, we bring you a couple of personal stories from people whose lives are still marked by the use of this deadly toxin.
Learn more about the Agent Orange
See this episode and all of our previous episodes here at https://www.vvmf.org/echoes
There are a number of ways to spread Agent Orange Awareness and you can do it right in your own community. The following are just some examples of how individuals and communities across the nation came together to raise Agent Orange Awareness last year.
Organize a candle event at a local memorial site, park, or wherever you can gather.
Ask your neighbors to display orange porch lights.
Organize a walk/run event.
Organize a motorcycle ride event.
Organize banner/sign hangings around the community.
Ask businesses to display awareness on their signs.
Organize a breakfast, lunch, or dinner event.
If you are interested in obtaining orange, battery-operated candles, feel free to visit www.100candles.com to order them.
Since the Vietnam War ended, thousands of Vietnam veterans have died each year due to Agent Orange exposure, PTSD and other illnesses as a result of their service. The Vietnam Veterans Memorial Fund's (VVMF) In Memory program honors those who returned home from Vietnam and later died.
The plaque on the grounds of the Vietnam Veterans Memorial site in Washington, D.C. that honors these veterans was dedicated in 2004 and reads:  In Memory of the men and women who served in the Vietnam War and later died as a result of their service. We honor and remember their sacrifice. 
In Memory was created in 1993 by the group – Friends of the Vietnam Veterans Memorial. VVMF began managing the program and hosting the ceremony in 1999. More than 5,000 veterans have been added to the In Memory Honor Roll since the program began. To see all the honorees, please visit the In Memory Honor Roll.