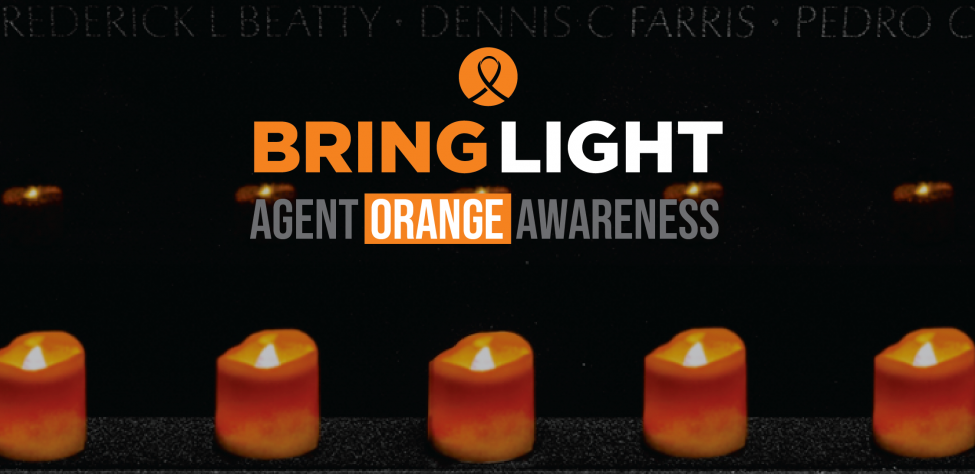 The Vietnam War may be over, but the battle continues for many Vietnam veterans. Nearly 3 million service members served in Vietnam and most returned home. But since then, thousands of Vietnam veterans have fought illnesses related to Agent Orange exposure. This deadly toxin has impacted the lives of thousands of veterans and their families but is largely unknown to most Americans. Join with us and YOU can help "bring light" to the suffering Agent Orange has spread since its first use on August 10th, 1961.
Get involved below by sponsoring an Agent Orange Awareness candle that will be placed at the Vietnam Veterans Memorial site in Washington, D.C. on August 10th at 7:00 p.m. EST.
To learn more, visit our topics page about Agent Orange. If someone you know has lost their battle to Agent Orange learn how to honor them in our In Memory Program.
Thank you to all of our supporters who ordered their Agent Orange Awareness shirts!
All shirts will now be printed and shipped directly to you (with an approximate arrival window around August 9th).
---
A couple of important notes:
Each shirt sale fundraising campaign will have set dates open for ordering shirts, beginning on the opening date and orders will be collected until the closing date. Shirt orders will be printed after the campaign closes.
All shirts will be shipped out at one time after the sale closing date with an estimated delivery date of approximately two to three weeks after the closing date of the sale.
All proceeds from the shirts benefit VVMF's programs
Please email us at [email protected] if you have any questions.
---
Agent Orange Awareness Day 2021 Design
Agent Orange Awareness Day Classic 2020 Design
There are a number of ways to spread Agent Orange Awareness and you can do it right in your own community. The following are just some examples of how individuals and communities across the nation came together to raise Agent Orange Awareness last year.
Organize a candle event at a local memorial site, park, or wherever you can gather.
Ask your neighbors to display orange porch lights.
Organize a walk/run event.
Organize a motorcycle ride event.
Organize banner/sign hangings around the community.
Ask businesses to display awareness on their signs.
Organize a breakfast, lunch, or dinner event.
If you are interested in obtaining orange, battery-operated candles, feel free to visit www.100candles.com to order them.
Since the Vietnam War ended, thousands of Vietnam veterans have died each year due to Agent Orange exposure, PTSD/suicide, cancer and other causes related to their service. The Vietnam Veterans Memorial Fund's (VVMF) In Memory program honors those who returned home from Vietnam and later died.
The plaque on the grounds of the Vietnam Veterans Memorial site in Washington, D.C. that honors these veterans was dedicated in 2004 and reads:  In Memory of the men and women who served in the Vietnam War and later died as a result of their service. We honor and remember their sacrifice. 
In Memory was created in 1993 by the group – Friends of the Vietnam Veterans Memorial. VVMF began managing the program and hosting the ceremony in 1999. More than 5,000 veterans have been added to the In Memory Honor Roll since the program began. To see all the honorees, please visit the In Memory Honor Roll.