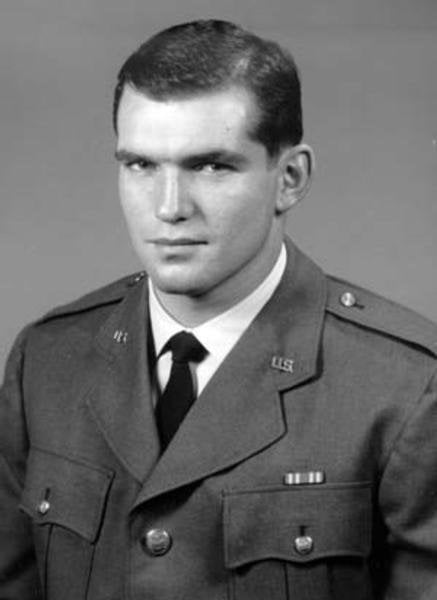 Lance Sijan was born on April 13, 1942 in Milwaukee, Wisconsin.
He graduated from Bay View High School in 1960, then attended the Naval Academy Preparatory School in Bainbridge, Maryland. After completing the program, he received appointment to the Air Force Academy. He graduated with a degree in Humanities in 1965, earned a second lieutenant's commission and, following pilot training, was assigned to the 480th Tactical Fighter Squadron, 366th Fighter Wing, stationed at Da Nang Air Base in South Vietnam.
He flew as an aircraft commander and a combat systems officer out of Da Nang in the F-4C Phantom, a 20-ton, two-seat fighter-bomber.
On November 9, 1967, Sijan was serving as GIB—guy in back, or in the rear cockpit—on a bombing mission over the Ho Chi Minh Trail with squadron commander Lieutenant Colonel John W. Armstrong. It was Sijan's 52nd combat mission. The Armstrong-Sijan Phantom crossed the Laotian border to a place called Ban Loboy Ford, where Armstrong released the bomb load. Then, instantly, the F-4C went up in flames. It is believed that defective fuses caused the bombs to detonate prematurely less than fifty feet from the plane.
Sijan and Armstrong managed to eject. Search and rescue missions were attempted but were eventually suspended. Both men were declared missing in action.
Sijan's parachute fall through the trees and onto the Laotian mountains. He suffered a fractured skull, mangled right hand, and a compound fracture to his left leg. He also had deep lacerations over most of his body. He had no survival gear, no food and little water, but with a makeshift crutch, he slid his way through the jungle for 46 days. He was finally found emaciated by the North Vietnamese on Christmas Day in 1967.
While in captivity as a prisoner of war, Sijan attempted an escape after he overcame a guard. He was recaptured hours later.
Sijan was later taken to a holding compound in Vinh, Vietnam, where he was held with two other prisoners – U.S. Air Force Major Robert R. Craner and Captain Guy Gruters. There he was beaten, tortured and interrogated for information. He did not break despite his injuries and shared no information with his captors.
Sijan was then transported on a grueling three-day trip to the Hoa Lo Prison, also coined the 'Hanoi Hilton.' He arrived close to death from pneumonia and a weakened state. Despite his condition, he showed tremendous heroism and courage. He never complained about his physical condition and on occasion, spoke of future escape attempts.
Sijan died in captivity on January 22, 1968 and was posthumously promoted to Captain on June 13. Sijan's remains were repatriated on March 13, 1974 and he was buried at Arlington Park Cemetery in Milwaukee, Wisconsin. 
Armstrong is presumed dead but his remains have yet to be recovered. He is listed among those Missing in Action.
Sijan was posthumously awarded the Medal of Honor on March 4, 1976. He was the first Air Force Academy graduate to receive the Medal of Honor.
The name of Lance Sijan is inscribed on Panel 29E, Line 62 of The Wall.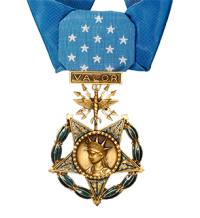 Lance Sijan was posthumously awarded the Medal of Honor for his action as a prisoner of war on March 4, 1976. President Gerald Ford presented the award to his parents, Sylvester and Jane Sijan, at the White House.
Citation: While on a flight over North Vietnam, Capt. Sijan ejected from his disabled aircraft and successfully evaded capture for more than 6 weeks. During this time, he was seriously injured and suffered from shock and extreme weight loss due to lack of food. After being captured by North Vietnamese soldiers, Capt. Sijan was taken to a holding point for subsequent transfer to a prisoner of war camp. In his emaciated and crippled condition, he overpowered 1 of his guards and crawled into the jungle, only to be recaptured after several hours. He was then transferred to another prison camp where he was kept in solitary confinement and interrogated at length. During interrogation, he was severely tortured; however, he did not divulge any information to his captors. Capt. Sijan lapsed into delirium and was placed in the care of another prisoner. During his intermittent periods of consciousness until his death, he never complained of his physical condition and, on several occasions, spoke of future escape attempts. Capt. Sijan's extraordinary heroism and intrepidity above and beyond the call of duty at the cost of his life are in keeping with the highest traditions of the U.S. Air Force and reflect great credit upon himself and the U.S. Armed Forces.
Learn more on the Congressional Medal of Honor Society website

Lance Sijan was listed as Missing in Action for seven years until his remains were repatriated on March 13, 1974.
During the Vietnam War, POW/MIA bracelets were created and distributed to bring awareness to those service members whose remains were unaccounted for.
This remembrance was left on Sijan's Wall of Faces page in 2017 by a woman named Kae:
"Still wearing the bracelet with Lance's name that is a reminder every day of his sacrifice and ho[w] his family has been deprived all these years without him…"
While Sijan's remains were accounted for and repatriated, approximately 1,500 service members are still listed as Missing in Action.
Beside each name on The Wall is a symbol designating status. The diamond symbol denotes that the service member is known dead or presumed dead. The cross symbol denotes that the service member was missing or prisoner status when The Wall was built in 1982 and remains unaccounted for today. When a service member is repatriated, the diamond is superimposed over the cross. The symbol next to Sijan's name is a diamond.
Learn more about the POW/MIA Issue