EP23: Items Left at The Wall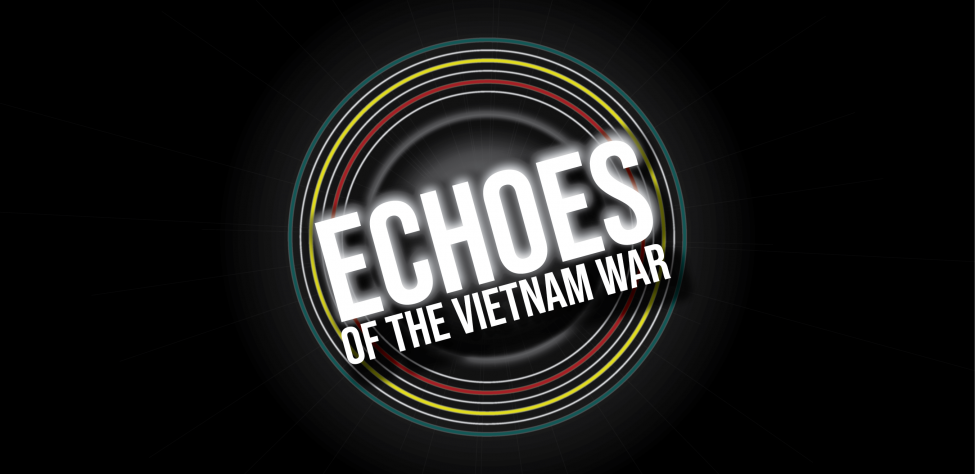 Release Date: March 2, 2022
https://echoes-of-the-vietnam-war.simplecast.com/episodes/the-things-they-left-behind
More than 400,000 items have been left at the Vietnam Veterans Memorial in remembrance, in longing, and in tribute. Learn how those items became a museum collection of the National Park Service, and hear from its first curator — a Vietnam veteran who would perform that labor of love for the better part of three decades.
Here are some other places where you can listen, follow and subscribe (don't worry, it is free) to the Echoes of the Vietnam War podcast:
Echoes of the Vietnam War
Transcript
(HOST): [00:00:15] It's the summer of 1982. Ronald Reagan is the president of the United States. Michael Jackson's thriller is on its way to becoming the biggest selling album in history. Cheers and Knight Rider are the hot new TV shows and at the movies, ET is phoning home, Indiana Jones is recovering the Lost Ark from the Nazis, and Rocky Balboa is going toe to toe with Clubber Lang.
(HOST): [00:00:54] Down on the National Mall, ground has been broken and construction is just beginning on the Vietnam Veterans Memorial. One morning in July, a solitary officer from the U.S. Navy walks up to the trench, where the concrete foundation will be poured. He stands there in silence, and then he does something remarkable. He takes from his pocket a Purple Heart medal belonging to his dearly departed brother. The man tosses the medal into the open trench, offers a slow hand salute and walks away. The man doesn't know it, but his is the first offering left by a visitor at the Vietnam Veterans Memorial, this solitary act builds into a slow rumble as more and more visitors begin leaving items at the site before the wall has even been built. It is already beginning to fulfill its destiny as a place of honor and a symbol of healing. Over time, the slow rumble grows into an avalanche, and 40 years later, more than 400000 items have been left at the Wall in remembrance, in longing and in tribute. Today we bring you the story of that collection with help from its first curator, a Vietnam veteran who would perform that labor of love for the better part of three decades. Stick around! From the Vietnam Veterans Memorial Fund, founders of the Wall this is Echoes of the Vietnam War. I'm your host, Michael Croan, bringing you stories of service, sacrifice and healing from people who still feel the impact of that conflict. Nearly 50 years later.
(HOST): [00:02:53] This is Episode 23 items left at the Wall. The Vietnam Veterans Memorial receives between four and five million visitors every year. When they leave, many of these visitors take things with them. Some of those things are tangible, like name rubbings and photographs and other souvenirs, and some are intangible, like a greater understanding of the scale and scope of American sacrifice and heroism. And in the best cases, a sense of healing. Just as varied as the things people take away from the memorial are the things they leave behind. Veterans leave dog tags and long letters to fallen comrades and cigarettes to repay those borrowed decades ago. Some leave behind poker cards for games that were promised but never played. Widows leave graduation photos of children who grew up without their fathers. Grown children leave ultrasound photos to connect the joy of a new generation with the memory of a fallen loved one whose name is on the Wall. There's a black sun hat left by a war widow, along with a card that reads, Dear Buddy. It has been 50 years since I wore this hat at your funeral at Arlington Cemetery. It has been sitting in my closet and I thought I should bring it down to the Wall. You will be forever in my thoughts and in my heart. There's a toy football orange and plastic with white stripes, with a typewritten note taped to it. Mike Melvin Number 12. Vista High School Vista, California In our hearts forever. Thanks for the memories.
(HOST): [00:04:28] Not surprisingly, a lot of people leave POW MIA bracelets. One of them was accompanied by this handwritten note. Dear sir, we've had this in our family for nearly 20 years. My sister wore it starting when I was in Vietnam. I'm sorry to find you on the Wall. Thanks for everything you did. As soon as this phenomenon began, rangers from the National Park Service started gathering up the items and storing them at a facility in Maryland. The fast growing pile of items was the beginning of the Vietnam Veterans Memorial Collection, a museum collection of the National Park Service with curatorial support from VVMF. This curated collection includes correspondence and photos, yearbooks and varsity letters, wedding rings, cigarette lighters, items of clothing, balls and bicycles, military medals and insignia and dog tags. Just about everything you can imagine and some things you probably couldn't have imagined. A prosthetic leg with a note written on it in marker that says, Dear brother, this is my way of putting your name on the Wall. There's even a custom chopper called the Wisconsin Hero Bike left at the Wall by people with handles like Hog Man, Polak, Shooter, and Kickstand. We'll tell you more about that a little later. But first, let me introduce you to the man who first took on the Herculean task of sorting through a giant pile of tributes and remembrances, making sense of them and ensuring that they would make sense to future generations. His story begins in 1982.
(DUERY): [00:06:02] No one foresaw it becoming what it became. You have to understand the zeitgeist of that time. It was completely different from today, whereas you have this welcome home. Thank you for your service that was absent during that time.
(HOST): [00:06:20] That's Duery Felton Junior. Duery was a radio telephone operator in the Army's 1st Infantry Division while serving in III Corps in 1967. He was wounded in action near the Cambodian border, something he doesn't like to talk about.
(DUERY): [00:06:35] So I came across this article about the National Park Service restoring these objects. They were being left at the site at this facility. So I made arrangements to go out there and visit the facility just so happens that the day I ventured out there Voice of America was there. The news organization. And we were walking about and I was walking with them, so they were coming. They were showing us these objects that have been left that were uniforms. I remember this, particularly the pajamas with some pajamas there and no one knew what they were. And because I spent so much time in the hospitals V.A. Hospital I recognized the pajamas, the patterns immediately and I expressed my opinion that these were VA hospital pajamas. So then there were some other objects in the collection, no one, not a No. One on a tour knew what they were. I knew what they were at doing well. This is a souvenir object. This is whatever this is, whatever. Unbeknownst to me, when I left and went home. David Guins(?) was the site manager, then checked up on everything I said, he verified everything I said and realized that I knew what I was talking about. So, he got in contact with one to know if I wanted to come out there and help them organize all this, you have to understand. There was nothing it was just madness, no one knew what this stuff was, it was just a pile of objects, things.
(DUERY): [00:08:23] So start talking with the members of the chapter Vietnam Veterans of America. We would come out there on the weekend and we would start organizing these things. The people coming out were different have been in different branches of the military during that time frame. I was viewing the collection, and one of the things that's I thought as we started formulating policies and some of the things I emphasize because of my mother was she was had gone through when I was in service and I said, I want there to be sensitivity to these objects. Everything that comes here, you may it may not have monetary value, such as gold or silver. But the donor is deciding that that this is important not did not want these objects to be discounted because I may not have understood something as I dealt with the collection over a period of time, I also started to realize that you might have an object, but it has different meanings from the origin of the object or the person leaving it just like the descriptor or the name given to an object. I'll give you an example of POM POM what I call pom poms. At some parts of the country, there are known as warm fuzzies. It's a sign of friendship now that's peculiar to that part of the country. I think with around the Midwest, the memory serves.
(DUERY): [00:10:00] But understand even the language, I know it has a pom pom. But in some parts of the country, it's known as a warm fuzzy. The meaning of it changes. It's more than just an accessory of being a cheerleader. Now it becomes this term of affection. So you understand the complications of all this, so I would make notes that, yes, it's the pom pom, but it's also known as a warm fuzzy or whatever. And that was very important. Also, you know, it was so many things like that, just like what I call the soda here on the East Coast in this area. In other parts of the country is known as a pop. So we had to deal with we had to deal with all of these issues and trying to formalize it, then we have the military proper. Oh my gosh. Ok. You may have a term for the army. That's not its similar object, but the Marine Corps may have a different name for it. The Air Force may have a different name for it. So when we were trying to catalog all these things, I had to decide on a basic beginning, OK, this will be headgear. We're going to start with the term headgear. Then if it's Marine Corps, it becomes a cover. Ok. They had to keep saying, breaking it down for each branch of the service. And that was very important.
(HOST): [00:11:37] After a short break, Duery tells the story of one of the most surprising and iconic items in the collection. The Wisconsin Hero Bike and we'll hear a few of the letters that people have left at the Wall. Stick around. This year, we're celebrating the 40th anniversary of the Vietnam Veterans Memorial to commemorate this milestone. Every day at 3:00 p.m. Eastern, we read the names of all the wall honorees who died on that date in alphabetical order. This is in addition to the live in person reading of the names that will be held in Washington, D.C., beginning on November 7th. You can visit vvmf.org/ROTN, and that stands for reading of the names. For more information about the daily virtual reading of the names and about the in-person event. We know it isn't easy for everybody to visit the Vietnam Veterans Memorial in Washington, D.C., So VVMF created The Wall That Heals an exact replica of the Wall at three quarter scale that travels to communities all across America. The Wall That Heals and the Mobile Education Center that travels with it will be in 29 cities this year. To see the tour schedule and to learn how you can bring the wall that heals to your town, visit vvmf.org. Do you have loved ones who survived the Vietnam War but died after returning home? Would you like to honor them at the Vietnam Veterans Memorial? We're still accepting applications for the 2022 in memory honor roll through March 29. And we also have an In Memory Facebook group with more than 15000 members. So be sure to join that if you want to feel part of a community of people who've experienced a loss similar to yours. You'll find the In Memory honor roll application and a link to the Facebook group by going to vvmf.org and clicking on In Memory.
(HOST): [00:13:40] And finally, if you'd like to be a part of VVMF's enduring legacy, consider making a gift to our new legacy endowment. Unless we act now, the service and sacrifice of Vietnam veterans may be forgotten when their generation is gone. For 40 years, VVMF has led the way to help heal our nation, remember those who gave all, and honor all who served. The legacy endowment will ensure that we can continue honoring Vietnam veterans for the next 40 years and beyond. We're launching the Legacy Endowment with a $500000 matching gift campaign, the legacy challenge. Each new outright gift or gift established through a will will be matched up to 50 percent with a maximum of $50000 matched per gift. All qualifying gifts established or newly identified before November 12th of this year are eligible for the match. Learn more at vvmf.org/Legacy. Over the years, visitors have left more than 400000 items at the Wall. The National Park Service can't keep all of them, but the objects that do become part of the museum collection are preserved by the National Park Service in perpetuity, which requires ongoing preservation and resources for their long term care and storage preferences given to objects with a direct connection to the people listed on the memorial and to objects that have a discernible connection to service in the Vietnam War. Preference is also given to items that provide context for a better understanding of the many aspects of the Vietnam War and its veterans and 30 years of curating the collection. Duery Felton Jr. thought he had seen it all. But then, on Memorial Day 1995, a group of bikers from Wisconsin left something truly astonishing.
(DUERY): [00:15:38] I was home sleeping and I received a phone call from the Rangers at the mall that a motorcycle had been left. I thought it was a joke. They said No. Fox News is down here. I said, OK, so I came down there. It was a bike. So what happened is in Wisconsin, there was a group of Vietnam veterans and supporters who wanted to honor the thirty seven individuals from Wisconsin who are on the wall. The bike is in the configuration of an easy rider bike. If you ever see the movie, Easy Rider has extended fork and has the fishtail exhaust pipes, so they said we wanted it to represent the 1960s, the spirits of the 1960s. They also emphasize that the bike is never to be sat upon until the last P.O.W., M.I.A. Is accounted for. There's a license plate on the rear that reads Hero. And we questioned the bike, the Wisconsin hero bike, many years later, we discovered through one of the Wall volunteers the story behind that tag. We knew that the tag had been summarily retired by the then governor of Wisconsin, but we found out that the tag was dedicated by a Medal of Honor recipient from his bike. We never knew that. Again, this is the type of information that comes in. I always call it the back door. This information was lost, so now it becomes part of the bike. Everyone concentrates on the bike, but their associated objects with it, such as the hand tude saddlebag.
(DUERY): [00:17:22] There's a plaque with the major donors. Some people who contributed to the bike. Then through the years, the bike has gone out on loan. It's been in New York at the Department of Veterans Affairs has been in Appleton, Wisconsin. It's been in a VA hospital up in Wisconsin. It's been in Washington, D.C., at the Department of Veterans Affairs. It's been in Sturgis, South Dakota. It had to go to Sturgis, South Dakota. Everyone wants this bike. All right. Pam West, who was the director, acquired money to make a special traveling case for the bike, it's wood. OK. Trying to protect the bike was going out so often a few years back. The group, the Wisconsin group, contacted us. There's going to be a ceremony at Lambeau Stadium to honor veterans. So it was requested that the bike be included in the celebration. So we struck a deal with them because the bike had been really somewhat nicked and whatever through the years. Plus there's chrome, chrome is subject to what's called flash rusty. The idea was OK, we'll let you have the bike for a few days or whatever, but we got basically a new bike back. They repainted it. They redid the chrome. They gave us new fresh tires. They redid the leather it's basically a new bike. The great thing about it is that the people who worked on the bike initially did the touch ups, so the bike is really pristine.
(HOST): [00:19:03] The full story of the Wisconsin Hero Bike is really amazing, and we published a blog post about it, complete with photos. If you're interested in learning more, you'll find a link to that blog post in the show notes for this episode. You can also see a selection of items left at the Wall by visiting vvmf.org/Items. To close out this episode, we got some professional voice actors to read a handful of the notes and letters left at the Wall. There are five variations on a theme. Five different perspectives on loss and healing. We'll be back in two weeks. We'll see you then.
(LEE ANN): [00:19:40] My dearest first love, as I sit down to write to you, I find that the tears still come so easily to my eyes. I don't know if I will ever get over losing you. The pain is still so real. Even after all these years after I lost you, I volunteered to fly MAC flights to Nam just to feel close to you somehow. Nothing helped. Nothing ever has. You were the kindest, most sensitive and gentle man that I have ever known. I often think of what my life would have been like if you had lived. You always said that you wanted at least six kids. I would have loved that too. I know that my whole life would have been different. You were so happy and so full of life, so generous and so giving. You loved me. There's no doubt in my heart I know you did. I have never known that kind of love since then. Your love was unconditional. You taught me so much about loving. I know that the reason that I can love my daughter so deeply is because of you. I wish she had been yours, my darling. She deserves so much better than she got. I wish she could have known you see your smile, feel your wonderful hugs. Know that I have always loved you, my darling, that I have never stopped missing you and that when I close my eyes, I can still see you and feel your arms around me. You will be a part of me until the day I die. All my love. All my life.
(MARK KENNETH): [00:21:43] Dear dad. This is my first time here as I stand here and remember you. My heart fills with joy at the memories you left behind. I am proud of you and the sacrifice you were willing to make for us. We don't deserve it, but you gave anyway. I know that you were thinking of your family when you went down. And I love you for that. Thank you for leaving me an example to follow. I left you a picture of your grandson, Danny. I wish you were here to see him. Come home to us, if you can. If not, I will see you another time, another place. I love you, daddy.
(LEE ANN): [00:22:36] Dear dad. I finally made it here to see you after all these years. I'm twenty seven now and married. I'm a girl. My name is Michelle. You probably know you've probably watched me grow up and know everything about me. I've gotten through some times when I know someone was watching over me. I didn't know what I missed until I became an adult. I think we probably would have had a great relationship. From what I've heard, you were pretty neat. I think that a father daughter relationship is very special, and I'm really sorry we missed that. I hope that someday I'll have a daughter and I can watch her grow up with a daddy. Scott will be a great dad. Everyone says I look like my mom. What do you think? I think I look like you. My mom has been a great mom. It hasn't been easy raising me. We've been through some hard times. We do have a very strong bond, though. I'll talk to you again. I'll be back with my husband, Scott, and maybe a baby. I love you, Michelle.
(CHARLES): [00:23:57] Hi, dad. The last time you saw me, I was just starting to walk. I really didn't get to know you or you to know me. Well, here it is 22 years later, and I am married to a wonderful girl. Her name is Sue. We have been married three years and next year when we come back to the Wall like we do every year, I will be showing your name to your grandchild and say that this is your grandfather's name. He or she will know that for some reason that you were a great man. I knew a little about you until one night I asked mom about you and talked to some of your old friends to find out who you really were. All the people I have talked to said that you would have done just about anything for anybody. I think you and me are a lot alike. I became a volunteer fireman to help people any way I can. I miss you and wish you were here today, so I didn't have to come back to this black wall. But you thought it was the right thing to do by going to Vietnam. P.s., I love you.
(LEE ANN): [00:25:42] Hi, Howard. This little pink dress is the one which your daughter wore home from the hospital. She was born two months after you died. I named her Michelle as we had planned. I'm so sorry you missed her whole life and yours too. She's all grown up now, got married a few years ago to a man who has some of your qualities. She's beautiful inside and out just like you. I never wanted to or thought I'd be married to a war hero, but that's what happened. I never remarried. Maybe because I never grieved for you. When Michelle announced her engagement, I started crying all the tears I didn't cry in 1968. I had to be strong because I was pregnant. No one would let me fall apart. 15 years after you died, I changed my name back to my maiden name. Your parents were hurt, but they finally forgave me. It was another attempt to get on with my life and over you. It didn't work. Only grieving for three years has led me here to face the reality of your death. Michelle and I came here today as a gift from one of your fellow vets. Many of the vets have helped me heal. So now at the end of those three years of grieving, I've come here to say goodbye. I've raised your daughter and I'm ready to go on with my life. In the midst of my grief, I discovered I'm a writer and I've written our story. Telling our story has helped me heal. When Michelle has her first child, I'll bring it here to meet you, and I'll tell it all about you. Just as I've done with Michelle, I still love you and miss you so much. I always will.
Echoes of the Vietnam War
Show Notes