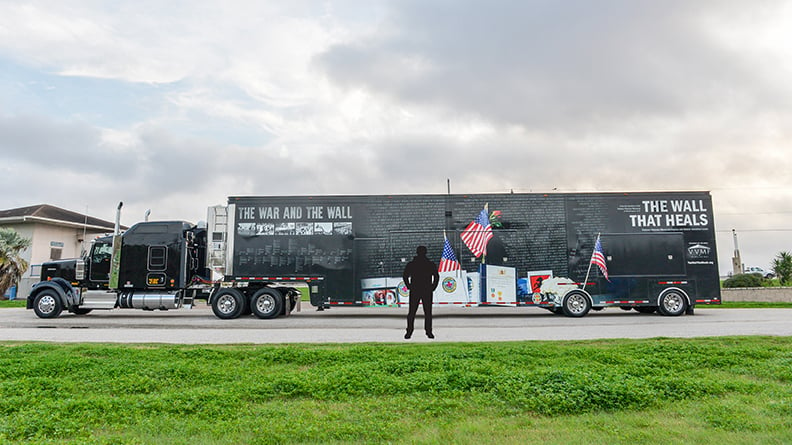 One of the most important deliveries you'll ever make…
VVMF has partnered with The Truckload Carriers Association (TCA) to bring The Wall That Heals to communities across America. A mobile replica of the Vietnam Veterans Memorial, The Wall That Heals, bears the names of the more than 58,000 men and women who made the ultimate sacrifice in Vietnam and honors the millions of Americans who served during the Vietnam War.
The three quarter-scale replica of the The Wall and a mobile Education Center spread The Wall's healing legacy to hundreds of thousands, but we can't do it without your help!  VVMF needs drivers and/or trucking companies to volunteer to haul The Wall That Heals to a single event or to multiple locations.
---
Haul The Wall in 2021
The 2021 Haul The Wall form has closed. We will provide information about hauling The Wall in 2022 at a later date. For questions or inquiries about hauling The Wall That Heals, please contact Tim Tetz at [email protected]
Our special thanks to our 2019 Haulers
2019 trucking companies
Thank you to the trucking companies who hauled us in 2019!
Baylor Trucking
Christenson Transportation Inc.
Dart Transit Company
Diamond Transportation System, Inc.
Halvor
Hedge and Herberg, Inc.
Hoekstra Trucking
JRayl
Ralph Smith CO Owner-Operator Independent Drivers Association (OOID)
Regency Transportation Inc.
Quality Transport Company
Sharp Transportation
Western Dairy Transport
Wilson Logistics
Wilson Logistics (Wil-Trans)
Z-Line